Tuesday, July 24th, 2012
---
9:24 pm
- My Photography page
Created a photography page in facebook:-) www.facebook.com/NatureThroughMyLens
Saturday, November 24th, 2007
---
7:05 pm
- The Lost Purse
This is an interesting incident which happened recently. I lost my purse ! It was a Friday evening. Before I left the office, I remember taking out 500 rupees from the purse and keeping in a convenient location --don't remember whether in the car or in my pocket -- so that I can conveniently pay it in the petrol bunk without taking out my purse. After that the purse was 'safely' kept somewhere. That was the last time I saw the purse. I didn't get out of the car till I reach home. Only next day when I searched for the purse for paying telephone bills I found it missing.

You know the seriousness of losing a purse now a days. Yes, the credit cards ! And there were two of them. More over, two debit cards also. Driving license, company transport card, frequent flier card everything were there, thanks to the many card holder compartments in the purse. I searched in the house, but of no use. Might have locked it up in the office drawers, that was the last hope. So I didn't bother about it much on Saturday. Sunday, I gave a second thought, went to office, but it was not there either. Checked with the security, but they haven't got any such information. Now I really started getting scared. The Diners club card doesn't even have any credit limit at all and the other one had a credit limit of 1 lakh! thanks to CITIBANK which raised it without my knowledge. I came back home and searched again, but in vain. As I haven't got down anywhere on Friday, I had some confidence that it will be somewhere in the office or home. However, I blocked the credit cards.
Monday I went to office, searched again. Lot of people told if driving license is lost it should be reported to police. I thought of waiting for a few more days. Meantime an SMS came from CITIBANK which said 90% of your credit limit of one lakh is used. I called CITIBANK frantically and to my relief they told they have sent the SMS. It is a part of the process of blocking a card !! I then blocked both the debit cards.

Next wednesday I went to the police station to request for an FIR to apply for a new license. I didn't mention about the purse or cards. The officer was a bit rough in the beginning. He asked whether I understand what an FIR is and why should they do this because of my negligence, etc. Later he cooled down and offered help. An FIR was not required, only an acknowledgment from them is required in order to apply for a new license. I got it done and planned to go to the RTO office in a few days.
Thursday evening when I came back from office, my maid told there is a letter for me which came on registered post. It was an envelope, I opened it and ...there were all the cards and driving license ! But no information on the purse or the 1500 rupees whiach was in it. The address of the sender was written on the back in a not so legible hand writing, but it looked like a fake address. What actually happened, I am leaving it for your imagination :)
Wednesday, August 3rd, 2005
---
6:01 pm
- Back again
I have not been updating the journal since I returned from Eindhoven. The main reason could be because there is no time to spend on this in the office. Also not many exciting things like weekend trips are happening now.

I am now in a two day training on MPEG delivered by a professor from IISc. The training is quite interesting since it started with a discussion on the 'philosophy' behind compression. Is audio visual compression something natural or artificial? It is absolutely natural since the human eyes and ears do not see and hear everything. For example all the details in a scene is not really seen (or rather noticed) and all the sounds made are not heard. We donot hear anything for 250 ms after we hear a loud noise like the one made by a cracker. Similarly when there are two audio sources which are closer in their frequencies and one has higher amplitude compared to the other only the first one is heard. MPEG makes use of the physiological as well as psychological properties of the sensory organs by extracting only what is sensed and in that process achieve compression.

It is also interesting to know that Huffman coding was invented by David Huffman when he was a student while he tried to solve an assignment on finding the most efficient binary code. He was given an assignment for which even his teacher was not having a solution. Now a days even teachers donot know what has to be given for an assignment and we cannot blame students for copying it from somewhere
Wednesday, January 12th, 2005
---
7:40 pm
- New Year Gift
This new year brought me the greatest gift I ever had. I am blessed with a baby girl on January 1st. It has been quite a long wait for her arrival. The expected date was Jan 2nd, but it happened on 1st itself at 10:52PM. It was a normal delivery and the baby weighed 3.08Kg.
Saturday, December 25th, 2004
---
3:23 pm
- Return journey
Left Eindhoven 23rd evening. Stayed in Ibis hotel at schipole that night. Started off to zurich at 7:30 AM the next day. zurich Mumbai journey appeared to be very lengthy. Reached Mumbai late night. There were no issues at the customs. Jet airways had got a check in counter for the domestic connecting flights inside the airport itself where I could check in my baggage and catch a bus to the domestic terminal. It is of a great help, otherwise we will have to encounter the fraudulent potters. There was quite a long wait before boarding the domestic flight. But fortunately I met lot of colleagues from Philips who came from Eindhoven in Al Italia and we could pass the time chatting. It took 2 hours to reach Bangalore. The temparature was 16 degrees even in Bangalore. Reached home by 5:30. I was indeed a great relief reaching India. However journey is not ending by this. I had to go to my home town and then to Trivandrum. Anyway life itself is a long journey :)
Thursday, December 16th, 2004
---
11:34 am
- The last of all visits - Maastricht
I made a trip to Maastricht two weeks back which turned out to be my last trip this year. No Netherlands itinerary is complete without visiting Maastricht - that's what travel guides say. This time Haris was giving me company. The autumn offer was over for the train ticket, we had to take a normal return ticket which costed 24.5 euros!!

Maastricht is located in the south eastern tip of Netherlands, squeezed between Germany and Belgium. Although this city was saved from WWI & WWII, it was captured at various time by most of the european powers starting from the Romans. This might have given the city its cosmopolitan favour. We reached Maastricht by 10:30AM. There was no bus tour available. The only option we had was to buy the pamphlets from the tourist office and follow the walking tour explained in it. Most of the places told in the walking tour was not very interesting. However the view of the Maas river which flowed through the middle of the city was great. The Church of Our Lady(Onze Lieve Vrouwekerk) was amazing. It looks a bit strange also since the front of the church is built like a fortress. Its almost dark inside. There was a beautiful statue of Mary with the Child known as Sterre der Zee (Star of the Sea) with candle lights lit in front. This romanesque church has parts dating from 1000 AD and was most likely built on the foundation of a Roman Cathedral.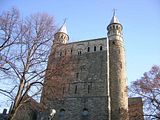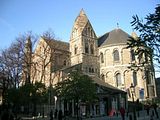 The Church of Our Lady



Then there was Vrijthof, a big square dominated by St. Servaas Basilica and the tower of Sint Jan, with it's striking red colored tower. St. Servaas Basilica built on the grave on St. Servaas who died in 384 AD.
Unfortunately I couldn't get a good view for my camera because of the stalls erected for a fair going on in the square. However here are some photos that I took.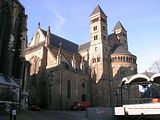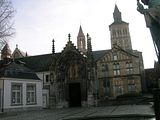 St. Servaas Basilica



We missed the boat trip to Mount St.Pieter which has got a fort with tunnels throughout the hill. However the trip was nice and we enjoyed the evening standing on St. Servaas Bridge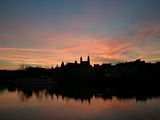 Sunset over river Maas
Wednesday, December 15th, 2004
---
11:25 am
- A warm day
Today the climate is quite ok. Even if it is around 3 degrees it is better compared to yesterday and day before yesterday. I have somewhat recovered from the cold I was having. Decided not to go for a hair cut befre leaving since there is hardly a week left
Monday, December 13th, 2004
---
10:36 am
- Sickness
Got a mild cold last thursday. Took a day off on Friday. However am almost OK today and managed to come to office even though temparature is -2 degrees today morning. Some other colleagues from Bangalore had also fallen sick and has not turned up in the office today. It is indeed a horrible thing to be sick in this cold weather.
Thursday, December 9th, 2004
---
4:27 pm
- A Hair Cut
I think my hair has grown too much in the last month. I have got it cut the day before I left India since I knew it is a costly affair here. It will cost around 15 euros(around 900 rupees). Moreover you can't just walk in to a hair cutting saloon;you need a prior appointment !! Anyhow I'll have to try it this weekend
Wednesday, December 8th, 2004
---
4:04 pm
- Delft - An Orange City
I made a one day trip to Delft 2 weeks back with Jimson. This is a an old city in Netherlands, located halfway between Rotterdam and Den Haag. It is one of the few cities not destroyed in the second world war. Another interesting thing about Delft is its association with the The House of Orange-Nassau, a family that has played a central role in the political life of the Netherlands since William I of Orange (also known as "William the Silent" and "Father of the Fatherland") organised the Dutch revolt against Spanish rule, which after the Eighty Years' War led to an independent Dutch state. Several members of the house served during this war and after as governor or stadtholder. However, in 1815, after a long period as a republic, the Netherlands became a monarchy under the House of Orange-Nassau.

Delft is also well known for Delftware, the blue and white pottery that was being made from here since 1600s. However we found them too costly to buy :)

The greatest attraction of Delft is the city centre itself, with its 17th and 18th century houses, streets that overlook canals, and of course, the churches. The leaning tower of the 800 year old Oude Kerk(Old Church) is strikingly beautiful. The 14th century Nieuwe Kerk( New Church) houses the crypt of the Dutch Royal family & the mausoleum of William the Silent. The church tower is 108 meters high or 356 steps to climb, even bigger than a 20 storeyed building.



Oude Kerk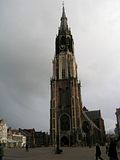 Nieuwe Kerk



We decided to climb to the top, but after reaching half way I got scared. The spiral stairs made of wooden planks looked very old (may be as old as the church itself), moreover the spikes were very narrow so that one could see the ones down. I was doubtful whether to continue or not, however somehow I managed to climb till the top. The effort really paid off, the view of Delft wad magnificent from the top. The city hall, which was built in 1618-1620 around the remnants of the old townhall is also remarkable.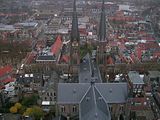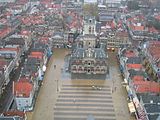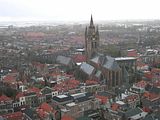 Views of Delft from the Top of Nieuwe Kerk
Friday, December 3rd, 2004
---
3:53 pm
- Sinterclass , St. Nicholas & Santa Claus
December 6th is St. Nicholas day. Internationally and traditionally he is known as Saint Nicholas, but here in Holland he is more commonly known as Sinterklaas. Many children anticipate his arrival 2 weeks before the festive day. Instead of coming to town by a sledge and nine reindeers this Sinterklaas comes to Holland by ship, from Spain, and rides through the streets on his white horse. Normally Sinterklaas is also accompanied by a whole lot of helpers who are known as Zwarte Piets. These helpers are dressed as jesters, and they paint any exposed skin black and wear thick red lipstick.

It is said that during this time, both Sinterklaas and his helpers listen in through chimneys to see whether the children have behaved well or bad. If the children are bad they will be kidnapped and sent to Spain for slavery! On the eve of St. Nicholas day, the children in Holland would leave their clogs(wooden shoes) by the hearth filled with straw for the Sinterclass's horse. In return Sinterclass would leave the children treats. His gifts were given late at night so his identity would remain secret. Good kids get presents in their shoes and the bad kids get a chunk of coal.

St Nicholas was a Christian priest, born in 280 AD, in Turkey. He was a wealthy man and traveled all around helping people, giving gifts of money and presents. The legend of Nicholas made him so popular that more European churches bore his name than that of any of the apostles. He was made patron saint of Greece and Russia. The date of Nicholas's death -- believed to be on December 6th, 326 AD -- was widely celebrated as the feast of Saint Nicholas, but was removed from the Roman Catholic calender in 1969 because the legends about Saint Nicholas are so incredible. The transformation of Saint Nicholas (in his red & white bishop's robes) to Santa Claus happened largely in America -- with inspiration from the Dutch.
Wednesday, December 1st, 2004
---
5:33 pm
- Lock and Key
Not all experiences are nice during my stay in Netherlands. One horrible thing that happened to me two weeks back. The main door in my apartment will get locked automatically if you close the door; you need the key if you want to enter the house again. Usually I wake up after 7:00AM and catch the bus at 8:24. Most of the daily routines (brushing my teeth, preparing breakfast, packing lunch, dressing up, etc.) happen between 7:45 to 8:20. I will be in a big hurry during that time and every minute in this period is quite valuable.

That day while I was preparing my breakfast a friend who stays in another apartment in Hertagof came to ask me something. He then wanted to make a phone call from my apartment. After he left I realized that my timings had gone for a toss. I was still determined to go by the 8:24 bus, so decided to skip my breakfast and quickly finished everything. After I came out of the house and closed the door I found that the keys were inside the apartment. Now nothing can be done, I thought let me go to the office and decide on what to do. While I was in the bus a sudden thought came into my mind. Did I switch off the hotplate? I remembered that I switched it on, but have no idea whether I turned it off or not.

I reached the office and tried to contact Ingrid Kolen who was taking care of the apartment bookings, unfortunately she had not reached the office. I sat there thinking about apartment no. 39 being swallowed by fire. Then I started looking at the guidelines document that Ingrid had sent. From that I got the phone number of Stoit group through which Philips normally book the apartments. I called up them. The lady who picked up the phone told they have duplicate keys, but not the keys of this particular apartment and later she confirmed that appt 39 is not theirs. My blood pressure started rising. Luckily Ingrid had arrived by that time, I told her about the keys. She told she has got the duplicate keys which she can leave at the security so that I can collect it in the evening. I told her about the hot plate. She gave me two options - collect the keys from her and go to the apartment immediately or just believe that I have switched off the hot plate. I didn't want to take a risk, so I took a taxi and rushed to her office, collected the keys and reached my apartment. BUT THE HOT PLATE WAS OFF !! The aftermath of the story - I lost 15 euros for the taxi and 1.5 hours of office time. Now I made it a habit to check whether the hot plate is off before I leave for office everyday.
Friday, November 26th, 2004
---
11:29 am
- Amsterdam Trip
I had a plan to visit Antwerp which was missed out in my Belgium trip in 2001. However Jimson insisted on going to Amsterdam so I decided to have a second visit.

Amsterdam is famous for so many things. Last year when I visited Amsterdam, I was looking around for a tourism information office, but what I found was a prostitution information office !! You can get greeting cards in almost all shops here with pictures that you find only in porn magazines in India. One cannot do many illegal things in Holland since they are all legal here! This is how an open society should be, at least that is the way I look at it. In India they are considered as crimes, but are practiced in a worst manner, and most of the time with an indirect support of the authorities.

There was an autumn offer for train tickets. Using this ticket, which cost 35 euros, 2 people can travel unlimited anywhere in Netherlands for a day. We reached Amsterdam Central station by 11:30AM. If you get out of the station and look back, you will be surprised to see that the station building itself is quite marvellous. This neo-renaissance building was designed by architect P.J.H. Cuypers and inaugurated in 1889.It is almost built over the sea on 3 specially made islands in the harbour.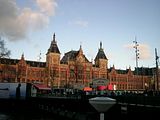 Amsterdam Central Station


We took a package tour which included a city tour, a visit to some special country side places, and also a canal cruise. We had to shell out 41 euros, but it kept us busy for the next 8 1/2 hours. The city tour was not so impressive. There are no stops and you cannot get down from the bus till the end of the tour. The best thing I enjoyed was the humorous commentary given by our guide. The guide was a lady in her middle ages, she exhibited extra ordinary talent in explaining things in a humorous way.

After the city tour we got into another bus for the country side visit. Luckily we got the same lady as our guide for this one also. The first visit was to a beautiful windmill village with lot of huge wind mills and green wooden houses. The wind mills are no more turning to make flour, but to attract tourists! In one of the houses they explained how the traditional Dutch wooden shoes are made.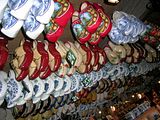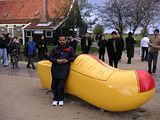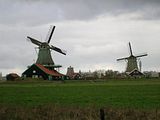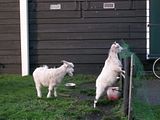 </center>

Shoe factory & Windmill Village



Next, we went to the fishing village of Volendam which is around 12 km from Amsterdam. The place is very picturesque with beautiful houses and streets. We enjoyed some prawns and mussels from a shop at the harbour.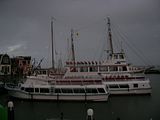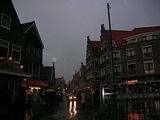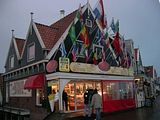 Volendam



On our way back to Amsterdam we visited a typical Dutch farmhouse where cheese is still being made the traditional way. A lady in colourful traditional costumes explained the process of making cheese.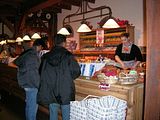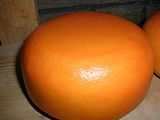 Cheese Farm



By 7:30 we reached Amsterdam, went for the boat cruise. And by 11:30 we were back in Eindhoven.
Wednesday, November 24th, 2004
---
11:13 am
- A mail on our school days from my friend Aji
Hi sumesh... nice to hear from u.. But palla... u have changed a lot.. i can remember we going to unni sirs tution centre.. and u coming directly from bed... and the day u had tht hard hit from satyan..shinu taking the role of a doctor and massaging u...and sham p koshy reminding the consequences to satyan tht he needs some operation....and satyan getting frightened...

And any one remember Unda thoma chasing me on one model exam day for not returning exam paper at the correct time.. and Bonda giving me nicely for talking in the class

Suresh.. do u remember how tactically we escaped from Unda thoma..

and our game with rubber bush in ottakudi and "badam ka " cricket in MHS

any one have any information about our bheeman moncy, and the girls in our batch .. asha, bindhu, jessy.. al may be well settled..

Hope u remember sushi forcefully taking a kambi pusthakam from pothen s pocket thinking tht it was labour india. I still remember the day wen we recovered a nirodh from the premises of ottakudi.. and i was not knowing wat it is.. it was melvin who explained wat the thing is and i was still confused..

All such memories ... it was a gr8 experience.. and we were sooo lucky to have such a nice school life..
And i can tell i have never enjoyed in my life like tht..
Use this site.. jus to share our thoughts and communicate each other... . as many r using official id for this e group plz be careful in sending the attachments..

Aji

current mood:
nostalgic
Monday, November 22nd, 2004
---
9:17 am
- Bicycles in netherlands
The Netherlands is often considered as a cyclist's paradise. You can find lot of people cycling here, not only as a sport, but as an important means of transportation. There is a good infrastructure to encourage cycling, a cycle path network separate from the main traffic with special traffic lights and boards for cycles. In every major places you can find parking lots for cycles.

The cycles you get on rent here doesn't have a hand brake, but a back pedal break - you will have to pedal in the reverse direction in order to stop the cycle. I found it extremely difficult, especially if you want to apply a sudden brake.

Bikes, as the cycles are popularly called in Netherlands, are good in all aspects, except for the fact that there is a high risk of getting them stolen. Yes, believe me, bicycle theft is quite common in Netherlands and every year tens of thousands of cycles are stolen. So you have to be very serious about. A chain lock, by which you can chain them to a pole or a fence, is a must. An interesting fact is that you can buy a cycle for a price as low as 15 euros in the second hand markets. They are quite good except for the fact that they are stolen! If you find one evening that you your cycle is stolen, the next morning you can go to the second hand cycle shop and buy your own cycle for 15 euros :)
Thursday, November 18th, 2004
---
5:10 pm
- Vianden -- Town with a Fairy Tale Look
We started at around 8PM from Luxembourg. Viendan is just 35 km from Luxembourg city. This time we didn't follow the maporama route :) We were concentrating on the major places on the way than the roads, we drove straight to Ettelburg, from there to Dekeirch and finally Vianden. Hence there was no chance of getting lost. We reached Vianden by 9:00 PM. and was welcomed with the lovely view of the castle lit up at night. It was so beautiful that we stopped there and tooked a few snaps. Unfortunately none of the dig cam photos came good since it was quite dark. I'll have to process my films and see how it has come.

Vianden is a small picturesque village situated on both banks of the Oor River. It has a magnificently restored medieval castle, the origins of which date back to the 9th Century, overlooking the town. Populations is very less, as small as 1,509.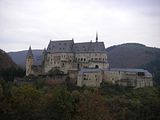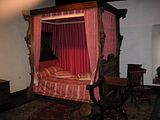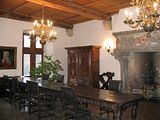 The castle and its interiors


While Victor Hugo passed through Vianden, he wrote of the town, "Vianden consists of two things, both of which are as comforting as they are magnificent. One is sinister - its ruin; the other cheerful - its people!"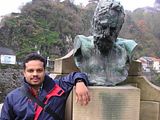 Two great geniuses of 19th and 21st centuries --Victor Hugo and me :)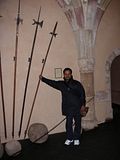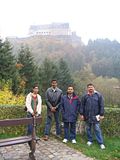 Vianden is more a place of natural beauty than anything else. There is no crowd, you feel yourselves relaxed. You can spend half of the day in castle and the remaining time walking along the shores of Oor river or go for a trek. The youth hostel here is very good. We got a room with 8 beds, but only we four were there. Altogether it was a nice experience and I strongly recommend people who go to Luxembourg to have a stop at Vianden.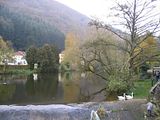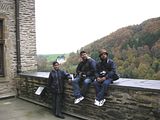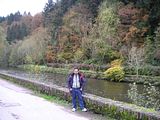 Wednesday, November 17th, 2004
---
6:30 pm
- Shopping
All of us except Jimson were having cameras and we were using them extensively. I was carrying an EOS 300 - my films are not processed yet. The pictures that you see below are taken in Jayalakshmi's camera. Jimson felt that he terribly missed a camera, so he decided to buy one from there itself. We went to a couple of shops looking for a medium range Sony one. The shop keeper in one of the shops recommended Minolta Dimage Xg. It looked nice and both Jimson and Velu bought one each. The price was 246 euros. To my surprise I found the price to be 326 euros in Eindhoven though after a week it came down to 296. But still it was definitely a good bye.

In the evening we went to the Luxembourg youth hostel to see whether they had rooms, but it was fully booked. We found that it is available in Vianden youth hostel, so we left for Vianden saturday evening itself.
Monday, November 1st, 2004
---
5:52 pm
- Luxembourg City
We decided to take a walking tour of the city. The city is mainly at two levels - the upper town divided by the Petrusee Valley which is at a much lower level. The view of the valley, with its rivers and beautiful landscape, from the upper town is stunning! I feel it is this difference in the altitude with its unusual natural scenery that makes the city distinguishable.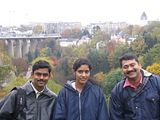 Jimson, Jayalakshmi & Velu in the background of a bridge across the Petrusee valley. Luxembourg City has several train and auto bridges built in this stone-arch style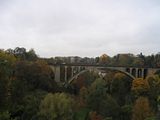 Pont Adolphe (Adolphe Bridge) which connects the city across the Vallee de la Petrusse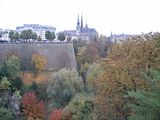 A view of the Cathedral of Notre Dam from Pont Adolphe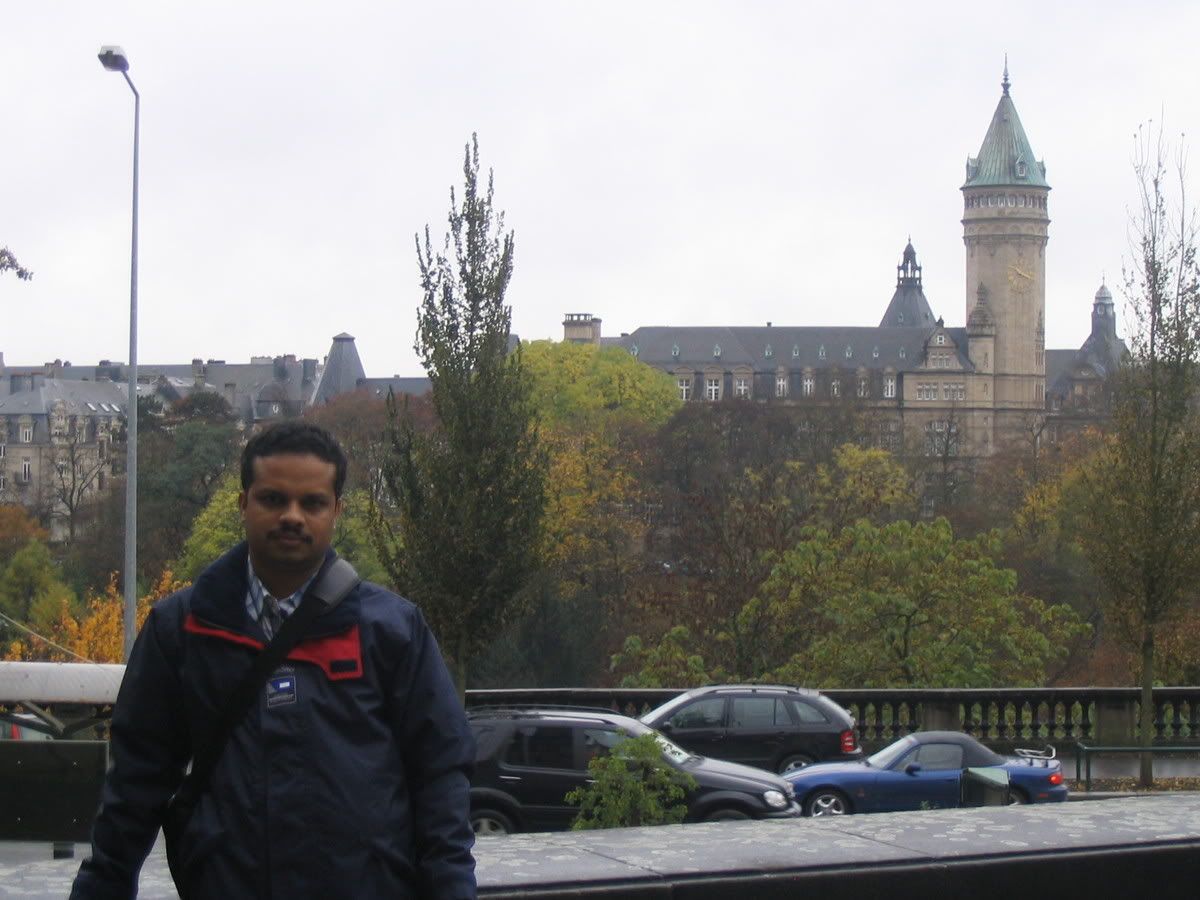 The National Savings Bank seen from
across the Vallee de la Petrusse



Although we didn't plan it well what we should do in the city it was quite enjoyable. A visit to this city is a sure success. The City of Luxembourg must be included in one's discovery of Europe.
9:02 am
- Lost on the way
We left the office early in the evening, went to Hertz and picked up our car. Jimpson joined us at the centrum and by 6:45 we are on our way to Luxembourg. As I told earlier our plan is to reach Vianden and stay there that night. Velu had a taken a print out from maporama which gives the route to Vianden. According to the map we were supposed to turn towards a place called Cheratte before reaching Maastricht. Unfortunately we couldn't find out any board showing Cheratte and within a few minutes we found that we had lost our way. We stopped at a couple of places and enquired, and followed the path which was told. Finally we reached a city called Leige in Belgium. From there we followed the road leading to Luxembourg. After sometime we realized that we are following the motorway A26 which goes straight to Luxembourg city. This road is almost parallel to the road we were supposed to take in order to reach Vianden. But now there was no other option other than to head towards Luxembourg.

We reached Luxembourg by 9:45PM and decided to stay somewhere there. We started looking for some hotel to stay. It turned out to be around 75 euros almost every places in the city. At last we decided to stay at one hotel. It was a quite good one except that the room was a bit small. But at least we had a place to sleep and 2 full days to see Luxembourg.
Wednesday, October 27th, 2004
---
5:21 pm
- Going to Luxembourg

I couldn't go anywhere last weekend since I had a slight back pain and wanted to take rest. This weekend we are planning to rent a car and go to Luxembourg. We'll start on Friday afternoon, and will enter Luxembourg at Vianden, a picturesque medieval city in the German-Luxembourg border. Maporama says Vianden is just 2.5 hrs drive from Eindhoven. I have already made bookings for four of us in Vianden Youth hostel for Friday and Saturday. The plan is to spend the whole saturday in Vianden, stay there that night and start for Luxembourg city on Sunday morning. By Sunday night we will drive back from Luxembourg directly to Eindhoven.